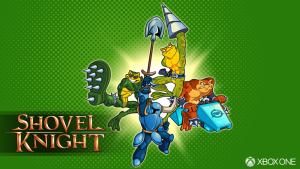 Announced earlier today, the Pimple, Rash, and Zitz of Battletoads fame will be joining the fray exclusively in the Xbox One version of Shovel Knight! Here's the official word from Rare…
Do you have Battletoads? Yacht Club Games have Battletoads. Yes, the team behind breakout indie platformer Shovel Knight have persuaded their armoured crusader to budge up and give some space to these old-school Rare bruisers.
The Xbox One version of Shovel Knight announced this week is the only one to feature our three mean green guest stars. And the team at Yacht Club Games have had stacks of fun working the Battletoads' radical '90s attitude and gameplay styles into their own book of Knight lore, promising us all a match made in 8-bit heaven. We genuinely can't wait.
Zitz, Rash and Pimple are always up for a rescue mission or a hard-hitting assault on the forces of evil, preferably both: this makes them perfect partners for Shovel Knight in the quest to save his beloved from the dark Enchantress and the dastardly Order of No Quarter. The 'Toads, as always, rely on their uniquely weaponised limbs while Shovel Knight is a master of the ancient and surprisingly versatile Shovel Blade. Tool up and run, jump, dig, collect and smash your way to glory!