In early January of 2008, word of an updated Xbox LIVE Arcade version of Rare's Nintendo 64 hit Goldeneye 007 had surfaced at 1up; however, the news was not good. The game had unfortunately been cancelled due to financial distribution issues between Microsoft, Rare, Nintendo and Activision (who holds the James Bond license now). Not to let the news of its cancellation discourage us, we began a small campaign with an online petition in hopes of gaining signatures from Goldeneye fans across the world. In a matter of days, a fire was ignited and emblazoned in the hearts of Goldeneye supremists everywhere that caught the attention of many publications, people in Microsoft, and even Rare themselves. The petition went on to gain well over 20,000 signatures in two weeks.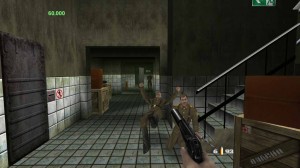 'Save Goldeneye e-mails poured into Major Nelson's inbox, a brief mention in one of IGN's podcasts, Xbox 360 magazine held a world exclusive that included images and a ton of detailed information on the game, and even a video of the Silo level spawned from some one within Rare on Youtube. Hope for the game releasing was shattered in the months to come, however.
Word on the street was that Nintendo didn't wish for the game to be released on the Xbox 360 even though it would see a release on their Virtual Console as well. Two years later though, a Goldeneye remake of another kind released  exclusively for the Wii from Activision and then still ended up seeing release on both the Xbox 360 and Playstation 3 in 2011. That particular remake, however, was nothing like the original and was largely an entirely different game altogether. Perhaps Nintendo and Activision feared from losing profits from this newer Goldeneye if the older–and much better–title were released?
The chances of Goldeneye XBLA ever seeing release now are incredibly slim. But hey, stranger things have happened, right? Show your continued support and sign the petition if you haven't already done so. Who knows what could happen?