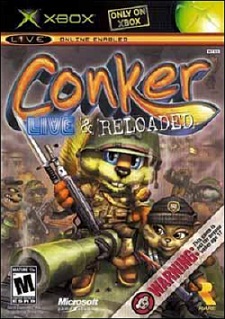 *UPDATE: Rare has confirmed via Twitter that the online mode will not be available!*
Coming later this month to Xbox One via the Xbox Backwards Compatability program is none other than Rare's Conker: Live & Reloaded. Conker originally released on the first Xbox in 2005 as a remake of the Nintendo 64 classic, Conker's Bad Fur Day.
Live & Reloaded will feature new graphical enhancements on Xbox One but it's doubtful its ambitious new online multiplayer will be accessible. You play the game using your original L&R disc (if you own it) or you'll be able to purchase it when it releases on either April 17th or April 26th.