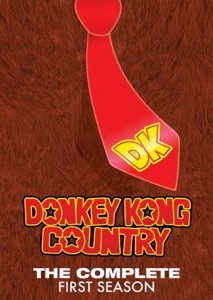 Phase 4 Films has announced that the complete first season of the Donkey Kong Country television series will be releasing on DVD on May 2nd for $49.99. Here's the official synopsis…
One of the most beloved video game characters of all time is swinging onto DVD! Donkey Kong Country brings all your favorite apes to life in stunning CGI animation. Join Donkey Kong, the peace-loving ape with a big heart as he teams with best-friend Diddy Kong to take on King K. Rool and his band of Kremlins. Includes all 26 episodes from season 1.
I loved the show back in the day when it first aired on Fox Family in the US, but I do think that $49.99 is far too overpriced. More details and pre-order information available here.