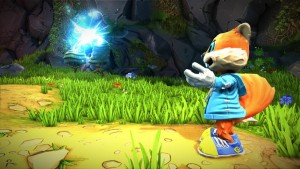 Everyone's favorite foul-mouthed squirrel returns to the lime light on April 23rd in the Conker add-on pack to Project Spark! The add-on pack will contain over 300 assets from the Conker universe with none other than Chris Seavor returning to voice the iconic character he originally voiced and created! There's even a sequel of sorts built in the game titled 'Conker's Big Reunion' that occurs a decade after Bad Fur Day! Here's the official press release from Rare…
It's almost here! The Conker add-on pack for powerful game creation tool Project Spark finally arrives next month. Rare's rascally rodent is the first external character to guest star in this open world digital playground.
Project Spark developers Team Dakota have put together a fantastic creative package for anyone with a soft spot for the squirrel: their Conker Builder Pack is fit to burst with almost 300 game assets including a Conker champion and various other well-loved characters, props, terrain, effects, tunes and sounds. And what can be conjured up from this little treasure trove? Any Project Spark user who picks up the pack can crack their knuckles, flex their inventive muscles and unleash custom-designed campaigns starring Conker & co.
But! If you're more of a player than a creator (or you just need a great example to work from) there's something for you too. Premade, playable Conker content was a popular request from fans following the original announcement, and Team Dakota have stepped up to the plate with a brand new episodic adventure. Conker's Big Reunion is set a decade on from the events of Bad Fur Day, and drops players into Conker's shoes as he sets out to hook up with his old friends only to find that things, as always, refuse to go according to plan. The whole thing is built in Project Spark with Conker's creator and voice actor Chris Seavor returning to make the furball sound exactly as he should.
All this Conker content launches on April 23rd for Project Spark on Xbox One and Windows 8.1, and you'll be able to pick it up from the Project Spark marketplace. Until then, check out the reveal trailer built using the game engine!