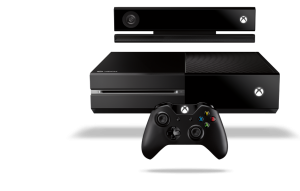 With Xbox One having finally been revealed, there's a plethora of news about it currently available and more consistently being released. So much so that it's hard to keep up with it all! That's where this particular post comes in. This post is a conglomeration of all of the important information composed about Microsoft's next-generation console that has been reported here on RFDB. I will be continually updating it as more and more additional news is posted regarding Xbox One. Convenient right? A brief summary is provided, but click the links for the full story…
The Biggest Xbox One News
Official Xbox One Press Release And Announcement– The moment we had all been waiting for! Microsoft officially announces their next-generation console and its called Xbox One.
Official Xbox One FAQ– There's always a plethora of questions that comes with the revealing of a new console. This official Xbox One FAQ from Microsoft may provide some answers you seek!
Xbox One Is Not Backwards Compatible With Xbox 360– If you were hoping to play your catalog of Xbox 360 games on Xbox One, then you're going to be sorely disappointed. Only Xbox One games are compatible with the new console!
Xbox One Games Can Be Sold And Traded In– One of the biggest controversies regarding the Xbox One was how the consumer could sell and trade their games. Microsoft has addressed people's questions and confirmed how the process will work.
Brief Tease Of A New Rare Game– A single, small image of one of Rare's upcoming Xbox One titles. What could it be?
Internet Connection Is Required, Cannot Play Games Indefinitely– Not really as bad as it sounds, but enough to create quite a stir amongst gamers.
Historic Rare Franchise Coming To E3– An old Rare IP is prepped to be announced at E3. What classic Rare franchise will it be? I'm guessing Killer Instinct!
No Games Categories In Xbox One's Marketplace– The new Games Marketplace with Xbox One will no longer distinguish games by category. Not sure if I like this…
1,000 Xbox One Friends– The days of being limited to 100 Xbox LIVE friends is over with 1,000 being the new limit. Now that's what I call an upgrade!
Xbox One Still Uses Avatars– If you had concerns on whether or not Rare's Avatars would still be a part of Xbox One's interface, then there's no need to worry. Avatars are a part of the new console.
Other Things About Xbox One You Need To Know About
It Is HDMI Only– In other words, the new console basically only supports HDTVs. So if you're still rocking an SDTV, it's either time to upgrade or you'll need purchase a converter to allow the usage of standard component cables.
Live TV Only In United States At Launch– Hope you weren't looking forward to Xbox One's live tv feature if you live outside of the US… because you will not be receiving it at launch. And for everyone who wants to utilize this feature, you must purchase a separate device. Doesn't that kind of defeat the purpose?
Save And Resume Play From Anywhere– This is one of my favorite new features. Now you can save your games and resume from literally anywhere should need to suddenly stop playing for whatever reason. Now that is convenient!
You Cannot Change The Harddrive– Unlike the Xbox 360, Xbox One will not allow you to change the harddrive. But don't fret! The already installed HDD is a whopping 500GB, plus it allows for your own external HDDs to be connected to the system. Not so bad afterall, right?
Xbox 360 Headsets Incompatible With Xbox One– Have you been sticking with the Xbox 360's standard headset? Or perhaps you've invested in a more expensive, much better headset such as a Turtle Beach or Tritton? Regardless of what you currently have, they won't be compatible with Xbox One!
Xbox One Hardware Specs– 8-Core, Radeon 7790, DDR3 RAM… Only the tech-savvy individuals will truly understand the significance in the hardware specs provide, because I surely don't. It sounds powerful though, right? Right…
Xbox One Is Region Locked– Hope you weren't expecting to play games from other regions on Microsoft's new console! Just like the Xbox 360, Microsoft has confirmed that Xbox One will not be region free.
Remote Play And Kinect Voicing– Having trouble with a game? Well Xbox One will apparently feature remote play, allowing you to remotely take over a friend's game from anywhere in the world and help them through a tough situation. And the new Kinect can also speak to you. Like Apple's Siri, but on a more… personal level. It's creepy really. Seriously!
A Modern, Connected Device– 24 hour check-ins, game sharing with friends, same day retail and digital… Changes are happening, and they're fairly big!
As previously mentioned, this post will be continually updated with new information, so stay tuned!