Giveaway Rules: This giveaway includes the NTSC version of the game only. This means it is likely to play in only NTSC capable consoles (i.e. the Americas). Anyone from any territory may enter to win but be advised that you may not be able to play it. All entries must be entered no later than December 20th, 2012 at 12:01 AM Pacific Standard Time. Only one entry per person is allowed. Multiple entries will result in an automatic disqualification from the giveaway. The winner of the giveaway will be announced no later than December 27th, 2012.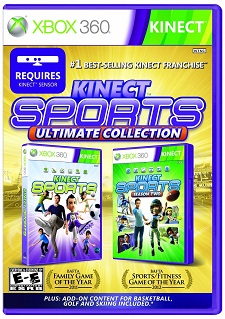 Kinect Sports: Ultimate Collection is the ultimate package of Rare's popular Kinect Sports franchise which has sold over six million units today. It includes both Kinect Sports and Kinect Sports: Season Two as well as their adjacent DLC, making it the perfect collection for anyone wanting to jump into the franchise. If having a copy of the Kinect Sports: Ultimate Collection is of interest to you, then I am more than pleased to offer you the opportunity to score yourself an absolutely free copy of the game that will be given away to one very lucky individual! Details on how to win are below…
To enter for your chance to win a free copy of Rare's Kinect Sports: Ultimate Collection, all you have to do is leave a comment below on what sport you would like to see in a potential future entry in the Kinect Sports franchise and tell us why you want that sport. That's it! Simple enough, isn't it? Leave your comment and best of luck to you!